big dogs deserve big comfort

big dogs deserve big comfort

big dogs need big beds. well, our "huge" size is big enough for even the largest dogs! measuring 36" x 45" x 5" these beds provide plenty of room for your biggest dog to relax.
check out moose, the 145-lbs saint bernard, below.
the answer is in your closet... or garage... or basement...

those old pillows, t-shirts, towels, etc. around your home? well, they smell like you and your dog loves your scent.
so, stuff them in our rugged — yet soft-to-the-touch — 100% cotton canvas dog bed covers.
won't it take a lot to fill out the bed?

not as much as you might think!
we suggest some old clothes for the bottom of the bed — to help weigh it down — and then layer in some old (body) pillows, comforters, sleeping bags, etc.
this mix of items will have your pup resting in cozy, comforting bliss.
learn more about stuffing our beds
i ordered the "huge" size for my 80 pound boxer. it was actually bigger than i thought it was gonna be, which i like! most of the time when i order a shirt or bed for him it turns out to be too small, even though it says it should fit him. the quality of the duvet is great and durable.
it comforts your dog (with your old stuff)
your dog's nose has 300 million olfactory receptors, allowing it to smell 10,000 – 100,000 times better than you & us!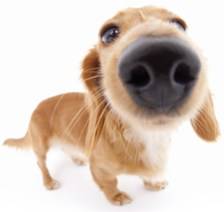 and guess what your dog's favorite scent is? you! your scent calms and comforts your pup like no other.