below are common questions & answers to help with your molly mutt purchase. feel free to contact us or give molly mutt headquarters a call (510) 238-8400.
what are your product sizes?
click the size chart below to view a larger version. please
contact us
if you have any questions about our sizes.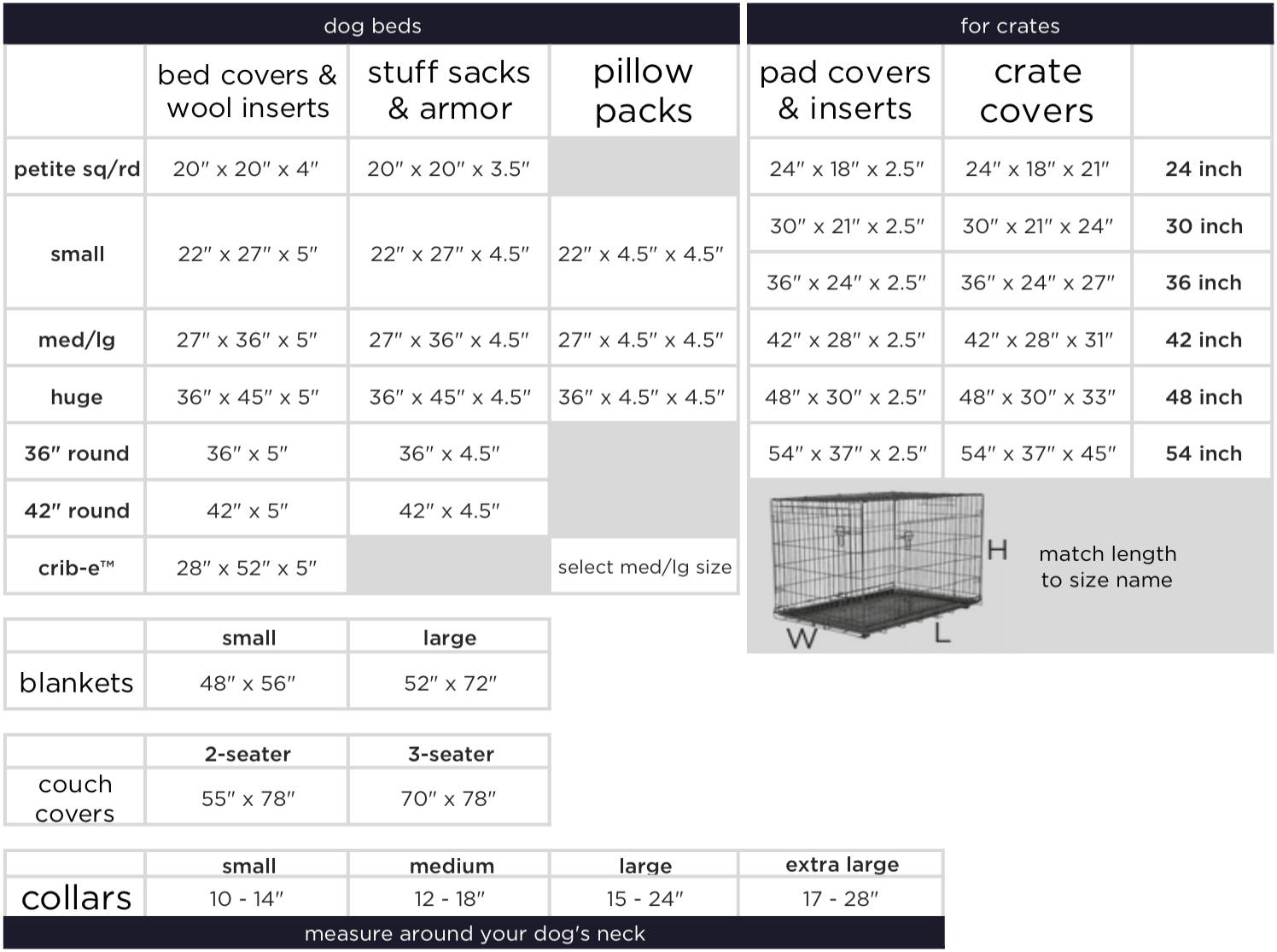 dog crate covers should be measured in the order of length, width, then height. each crate cover size is named for its length. please see the diagram in the size chart above.
dog car seat covers are one size, measure 56" x 56", and fit nearly all vehicles with front & rear headrests.
do you offer custom sizes?
we have a full custom shop and are pleased to quote any project you'd like done using the beautiful molly mutt fabrics. need to cover a dog bed or crate that doesn't match our sizes? or maybe you have a more elaborate project?
we've made couch seat covers, curtains, bird cage covers, mini-fridge covers, RV cushions and more. simply complete our custom work form and we'll get back to you with a quote. all of our custom work is done right here in our oakland, california facility.
if you need a custom size or product, please complete our custom work form and we'll get back to you with a quote.
how do i clean my molly mutt products?
all molly mutt products are 100% washable. please FIND YOUR PRODUCT BELOW FOR MORE DETAILED INSTRUCTIONS.
care instructions
crate covers, car seat covers, couch covers, pillow packs:
↳ cold water wash — remove from the washer immediately — and hang dry only.
duvets, crate pad covers, pet blankets, stuff sacks:
↳ cold water wash, tumble dry low.
wool inserts:
↳ hand wash with a gentle detergent, leave to dry in the sun. wool should NEVER go in the washer or dryer!
outside (indoor/outdoor) products & armor:
↳ we recommend wiping off the product. if further cleaning is required, wash in cold water and hang dry.
TO AVOID fading or discoloring
Please avoid using detergents with the following, as these ingredients can cause premature fading:
optical brighteners — which are showing up in more and more detergents these days. there is some debate about the environmental and health effects of optical brighteners, but they can cause colors to fade or discolor. look for any of these names on your detergent bottle:

Optical Brightening Agents (OBAs)

Optical Whiteners

Fluorescent Brightening Agents

Fluorescent Brighteners

Fluorescent Optical Brighteners

Fluorescent Whitening Agents (FWAs)

Fluorescent White Dyes

Organic Fluorescent Dyes

bleach or bleach additives
TO AVOID shrinking
our products are pre-shrunk, but the extreme heat from some dryers and soaking can cause unintended shrinkage.

please follow the care instructions above. also, because we use 100% cotton canvas in nearly all of our products, avoid leaving your items sitting in the washer (or soaking) for an extended period of time. this can cause cotton to shrink.
how durable are your products?
our products are made of durable fabrics and stand up to normal wear and tear and numerous washings. unfortunately we do not offer any chew/tear-proof guarantees on our products. because our dog bed covers are stuffed with your old stuff it may help calm/soothe your pet, which can lead to fewer incidents.
are your duvets chew-proof?
unfortunately we cannot make any chew-proof guarantees regarding our products.
are your products waterproof?
no, but... our indoor/outdoor line of duvets are water-resistant — making it easy to clean up after accidents or after a day in the great outdoors.
we also offer armor, which is a water-resistant liner designed to fit inside your molly mutt duvet. with armor, the insides of your duvet are protected from the elements.
how accurate are your product photos?
we do our very best to represent the color of our patterns as accurately as possible on our website.
however, please be aware that factors such as varying screen calibrations and the lighting in which you view your items can affect the way a pattern looks. it is also possible that patterns from different dye lots may vary slightly in tone and hue.
which countries do you ship to? which carriers do you use? etc.
i can't find my favorite pattern in the size i need!
occasionally we sell out of sizes. if a size is missing from your favorite pattern that means we cannot currently ship the item.
feel free to contact us as there may be items that are not listed on our website.
what if my order contains a defective product?
if you receive your molly mutt products and find that they are in some way defective please let us know! we want to make sure that all molly mutt products meet our standards for durability and quality. we will make sure that you are sent a replacement quickly!
can i return or exchange my items?
yes, absolutely. we do not require any return authorization process—no need to contact us for an RMA number.
we are a small company with free shipping on all outbound packages, so we are not able to offer free returns as well. the most affordable shipping options to us tend to be USPS flat-rate envelopes.
exchanges
you have two options when exchanging items:

place a new order for the item(s) you need now. send back your other item(s) as a return and we'll refund you when it arrives at our warehouse.

send your item(s) back and include the form below. we'll contact you if there is a price difference.
returns
We refund 100% of the purchase price for unused, unwashed items. refunds and exchanges will not be given for used or washed items. "used" includes, but is not limited to:

full of fur

smells of smoke or perfume

scratched or other damage
if your order qualified for free gifts, please include the corresponding gifts or you could receive a less-than-full-price refund to account for those items.
please use our returns & exchanges form. once we receive your package it can take up to 3-5 business days for your return/exchange to be processed.
please note: since personalized items are made just for you, these products are not returnable once they've been embroidered.